INTERIOR.LEATHER BAR
(Non)fiction hybrid, 60 min., 2014
Directed by James Franco & Travis Mathews
Produced and Shot by Keith Wilson
In order to avoid an X rating, 40 minutes of gay S&M footage was rumored to be cut and destroyed from the 1980 film, "Cruising." Inspired by the mythology of this controversial film, filmmakers James Franco and Travis Mathews collaborate to imagine their own lost footage.
Distributed by
Strand Releasing
More info at
www.interiorleatherbar.com
Selected Festival Screenings
Sundance Film Festival
Berlin International Film Festival
International Film Festival Rotterdam
Frameline: San Francisco International LGBT Film Festival
OutFest: Los Angeles Gay & Lesbian Film Festival
Hot Docs International Film Festival
Selected Theatrical Screenings
New York City — IFC Center
Los Angeles — Silent Movie Theater
San Francisco — Roxie Theatre
Ashville, NC — Fine Arts Theater
Portland, OR — Hollywood Theatre
Sebastopol, CA — Rialto Cinemas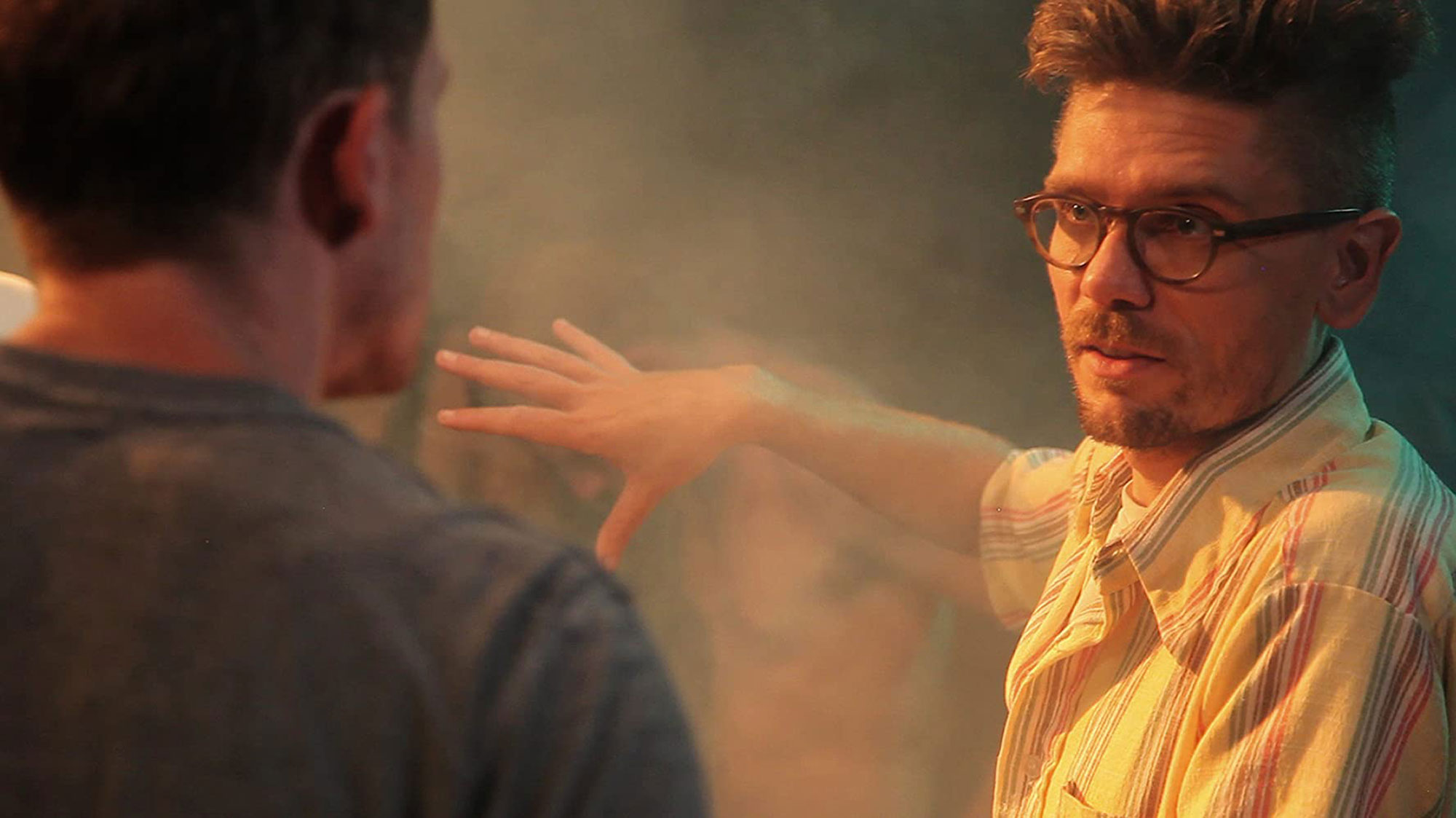 Press
New York Times - March 4, 2014
Critic's Pick
The man in the black leather vest looks nervous. All around him, glistening half-naked men dance to the disco beat as smoke curls in the air. They writhe, touch and kiss, skin against skin, leather against leather. A guy in chaps pauses and locks his eyes on our nervous man. Here, looking is cruising, an overt exchange of desire: It's about watching and waiting, and being conspicuously out of the closet and the thrilling promise of something more. Then the scene stops and the actors wait as James Franco and Travis Mathews, the directors choreographing this bacchanalia, plot their next move.
They execute a fair number of estimable moves in "Interior. Leather Bar.," a sly conceptual coup d'art and a deeply sincere exploration of masculinity and its discontents, with a little hot sex thrown in. The movie's ostensible point of departure is 40 minutes of graphic footage of S-and-M that the director William Friedkin was forced to edit out of
"Cruising,"
his 1980 thriller with Al Pacino, to avoid an X rating. Inspired by what they rather cryptically term the mythology of "Cruising," Mr. Franco and Mr. Mathews have set out to reimagine this excised material.
They've done just that in a movie about a movie that turns out to be something of an intellectual house of mirrors. Coming in a densely packed 60 minutes that could easily have been extended, "Interior. Leather Bar." — the title mimics a screenplay scene heading — is simultaneously an act of creation and deconstruction. Turning the cameras on themselves (relax, Mr. Franco keeps his clothes on), the filmmakers recreate the nominally lost material while also taking you into their process, including production meetings with their lead, the nervous man in the vest, Val Lauren, a friend of Mr. Franco's from his earlier
acting
days. Mr. Lauren isn't playing Mr. Pacino per se, but rather the character in "Cruising," a cop who's investigating the brutal murders of the gay male habitués of the downtown New York leather and cruising scenes.
Mr. Franco and Mr. Mathews's approach is by turns direct and oblique. They take you behind the scenes of their movie with seemingly real casting interviews and sequences in which Mr. Lauren expresses his concern about the project. "I like James's mission even if I don't understand it," he says, echoing a complaint that's been heard elsewhere about his friend. Mr. Franco himself doesn't make his mission clear in "Interior. Leather Bar.," but the movie comes into focus through its "Cruising" re-creations; discussions about gay identity and heterosexual discomfort with the same; and interludes that at times have a documentarylike texture and at other times register as explicitly staged.
It's startling how much controversy "Cruising" stirred up among those who thought its representations would feed homophobic prejudices. People didn't just protest, they also rioted, by the thousands (well, maybe hundreds). In a 1979 article for New York Magazine, the activist Vito Russo — author of "The Celluloid Closet" — visited both the set and the tumult. Mr. Friedkin insisted to Mr.
Russo
that his movie was simply "a murder mystery with an aspect of the gay world as background."
It is, he continued, "no more about gay life than Woody Allen's 'Manhattan' is about New Yorkers. " That's funny and true even if "Manhattan" is about a very specific idea of New York and its citizens, much like "Cruising" is about a very specific idea of what Mr. Friedkin reductively labeled the gay world.
"Interior. Leather Bar." revisits the anxiety that swirled around "Cruising," which was summed up by an extra who told Mr. Russo: "I don't want America to think that all gays are like that, and if this picture gets released, I'm afraid they will." If anything, those who decried "Cruising" overestimated its impact, including at the box office. The protests continued when the movie opened in 1980, but "Cruising" faded, as did Mr. Friedkin's career. The next year, federal health officials identified a new disease: AIDS. Men who might have protested against "Cruising" mobilized against AIDS and government inaction; fast-forward, and while discrimination remains, of course, the most public gay rights issue now is marriage equality.
To an extent, "Interior. Leather Bar." functions as a response — searching and serious, playful and teasing — to the mainstreaming of homosexuality in the United States. However much has been gained in the years from
Stonewall
to the
fight
for same-sex marriage, it's worth asking, as Mr. Franco and Mr. Mathews do, what has been lost. When Mr. Friedkin took a peek into the leather bars once upon a downtown time, he might have seen something that frightened him. Yet the men inside those bars were part of a self-defined, self-sustaining and vital group that, as the years and milestones pass, can seem in danger of losing a part of itself. Or maybe, as Mr. Franco and Mr. Mathews suggest, the lines have become so very blurred that labels like gay and straight are no longer remotely useful.
Original Poster for Sundance