Collapse
(2012)
Utility pipes left untapped after the 2008 recession, watch over a desolate suburban landscape as it slowly returns to the forest it once was.
The Great Recesion of 2008 hit Suburban Atlanta particularly hard. Two years prior, approximately 100,000 people relocated to metropolitan Atlanta in search of good weather, plentiful jobs and ample, affordable housing. In 2009, that number dropped over 80% to 17,000. One result of the severe downturn is a half-built, desolate suburban landscape stuck in limbo.
Collapse is a project investigating the recession's effects on Atlanta's exurban fringe, a shadowy penumbral zone Robert Smithson may have called "the gap," a blank and void region we never look at. This abandoned "site" is temporally and spatially located between romantic ruins and all the building that will be built, or what Smithson called "ruins in reverse."
The photographs present a series of protruding pipes in the desolate landscape of half-built housing developments. Originally intended to supply homeowners with basic utilities (water, electricity, gas, sewage), the pipes now appear to be skyward growing totems, watching over the land as it slowly returns to the forest it once was.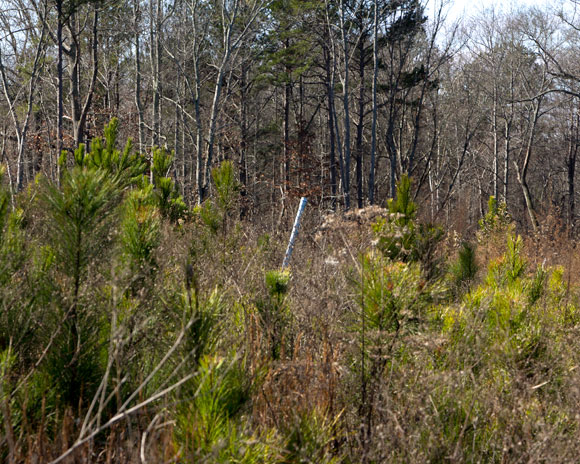 Installation Images
Martina Johnston Gallery